Hello and welcome to Cagrihan (Çağrıhan in Turkish spelling "chaa r uh an" literally means Falcon King)'s web page.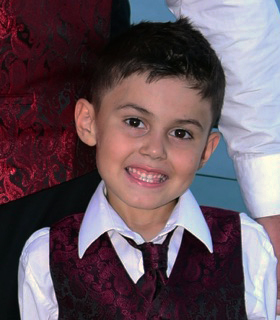 He is 8 years old and he already can speak 2 languages and can understand commands nearly in 3 European Languages. He is one of the top students in his class. He is very popular amongst his fellow classmates because of his attitude, kindness, politeness as well as his vision.
His father comes from a family whom has been busy for decades with Arts and Literature. However, his mother is also very good on Artwork as well Handcrafts. But, it has been scientifically proven that, the child gets most of their abilities from the mother, we should thank his mother for that… 🙂
This website as well as his sister's and brother's website, were voted between his family and came out as a project just because those 3 siblings wanted to have their house with a garden. As a family, living in London, they did not have enough to save up and get a place for their own. Especially with a garden where those 3 siblings can play…
One day, daddy (even though he was not around much), came up with an idea after seeing the Artwork of theirs. He thought, he should share this with the world to show how talented they are.
But, then, Cagrihan came up with the idea of selling them Online to save up to buy a house with a big garden, where he can play with his sister and brother.
Daddy loved the idea and he decided to setup the website and his mother came up with idea to donate %20 to the Children in Need through BBC.
They all voted and all 5 of them said OK! So, this is the story, behind this website…
Please feel free to contact us if you have any questions. We promise to get back to you within 2 days…
Thank you.
NB: Contact info will be updated soon…